Design, durability, usability and compactness are the most important construction standards in the production of fitness equipment.
Whether it is the manufacture of specific equipment for gyms, or smaller, multifunctional exercise machines for domestic spaces, tubes are the fundamental building blocks. This is why tube processing technologies, such as bending and laser cutting, are so widely used in this sector.
Initially designed for rehabilitation by orthopaedic physician Gustav Zander in the 19th century, these devices have expanded their field of use over time, becoming increasingly popular to also improve people's lives, which have become increasingly sedentary over the years.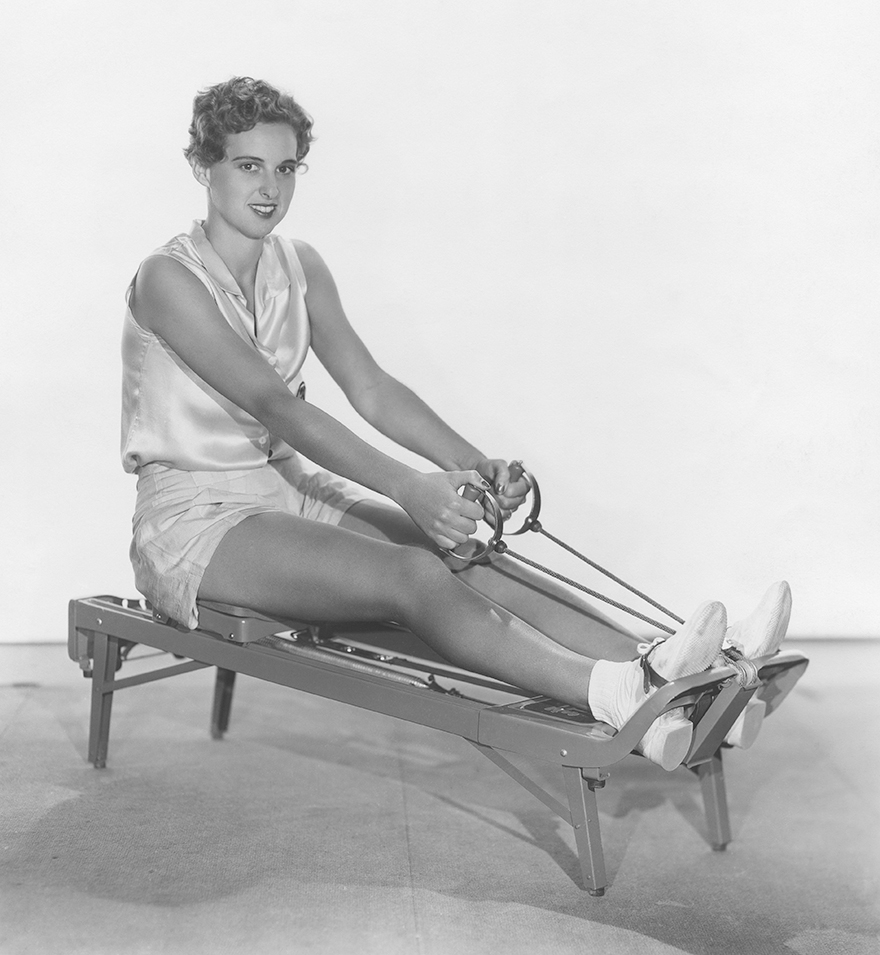 Gymnastic apparatus from the late 1960s.
Construction standards for fitness equipment
Over time, what used to be simple seats with barbells or frames equipped with pulleys and handles have been transformed, to improve the biomechanical mechanisms and to meet the need for ever greater simplicity and comfort of use.
These machines must be universal, i.e. developed to allow anyone to perform the movement correctly, regardless of their level of training, age or physical abilities.
In parallel with the universality of use, ergonomics is also of paramount importance, for instance in details such as handles or object holders, bottle holders, towel rails, etc.
The appearance has also become increasingly important over time, so much so that some manufacturers now make fitness machines that are authentic designer objects.
The aesthetic appeal of fitness equipment has become more and more important and therefore a key distinguishing feature to be able to compete in this market.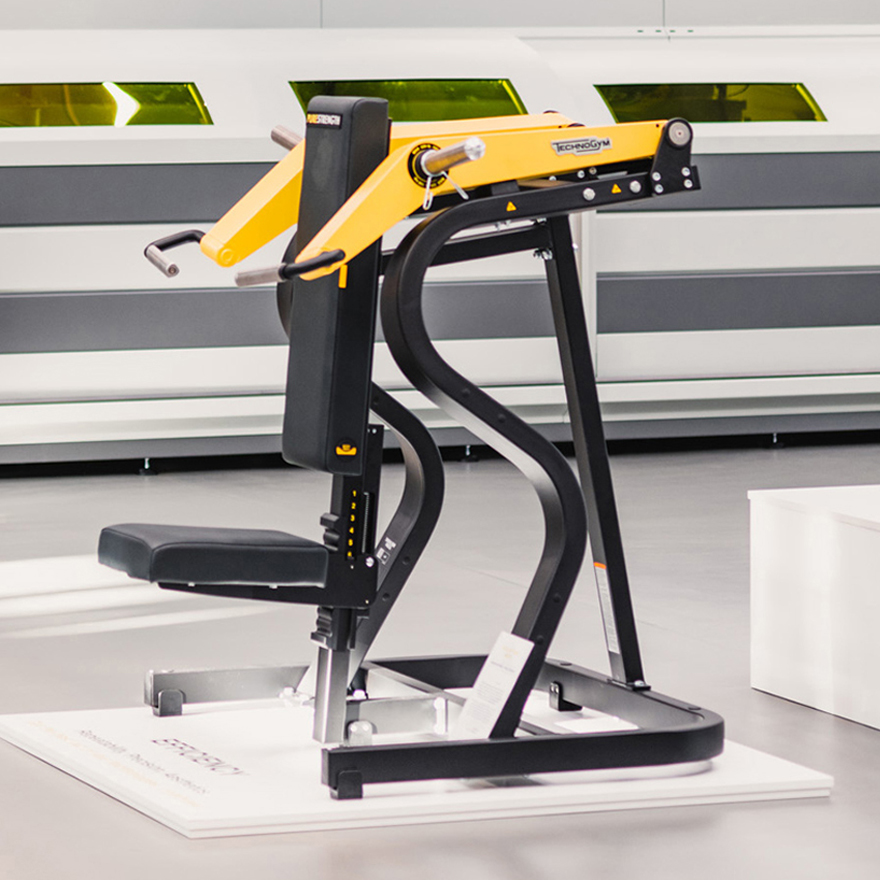 Figure (A): Shoulder press machine from a famous fitness equipment manufacturer on display at Intube 2021, the TLM GROUP Open House.
Tube processing and fitness machine design
One of the most defining features that most influences the shape and thus the beauty of a fitness machine is undoubtedly the aesthetic finish of the frame because this aspect expresses the special attention devoted to the making of its tubular components. Here are some of the tube processing aspects that fitness machine manufacturers pay particular attention to.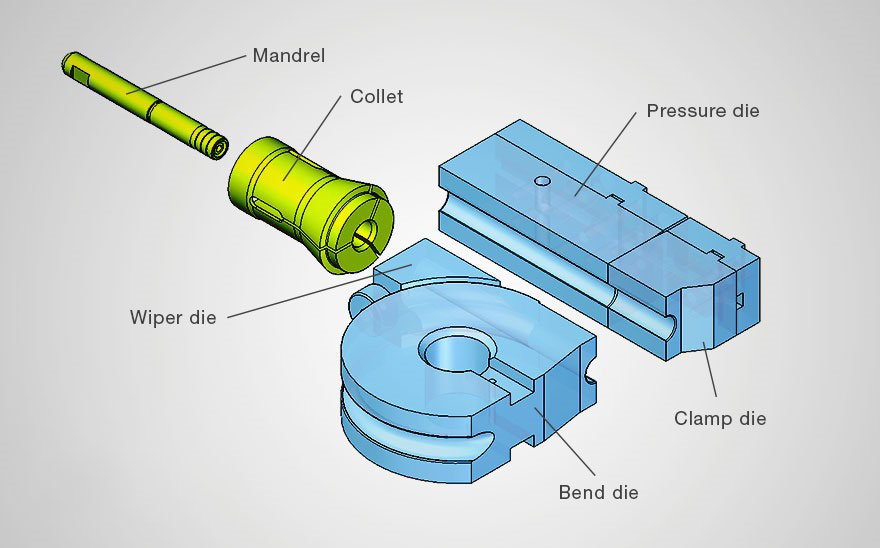 Name of all components of tube bending tools.
The possibility of creating faultless, aesthetically pleasing curves
Today's bending technology has made considerable progress. Special features of bending tools, for instance, include electric wiper die control and springback recovery, but also the position control of the mandrel used to support the walls of the tube from the inside during the bending process. All these factors are now optimized by the software management integrated in the all-electric tube bending machines CTA CURVATUBI allowing bends to be made even with a central line radius to tube diameter ratios of less than one.
Would you like to upgrade to an all-electric tube bender?
Here are the 8 main strengths of this type of system
Possibility of bending special section tubes
Elliptical and rectangular sections or special shapes can be used to make products that offer distinctive aesthetic characteristics to the device, and even develop innovative and value-added technical solutions for customers. In these cases, having automatic tube benders with dedicated bending tools is important.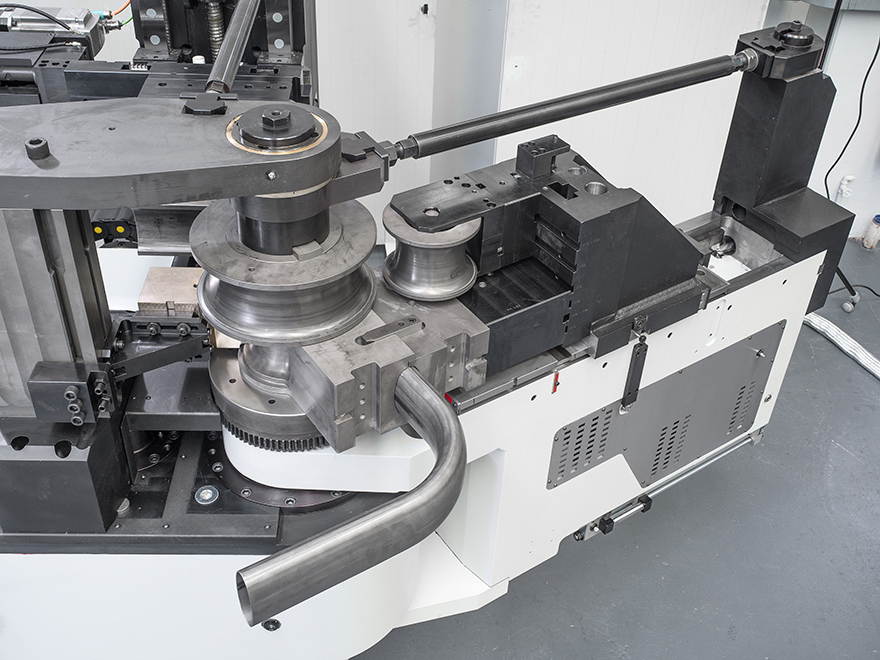 Bending an elliptical tube for a fitness machine.
Bending tubes with various bending radii
Designers are free to define the shape of the product, combining their artistic flair with the required functionality.
The frame of a piece of fitness equipment will be made up of straight tubular elements and parts bent according to fixed or variable radii. For this reason, the best solution is tube bending machines with multilevel bending equipment capable of performing fixed radius bends with several average radii or variable radius bends, all in the same working cycle and without needing for tooling changeovers on the machine between different parts.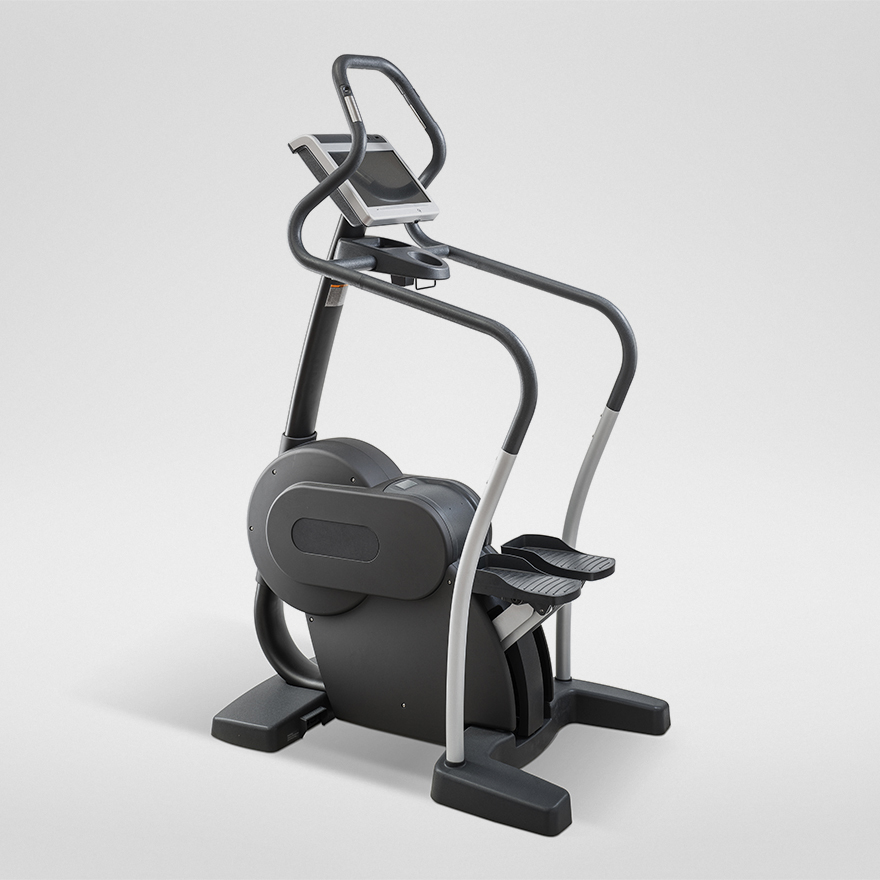 The frame of a piece of fitness equipment will be made up of straight tubular elements and parts bent according to fixed or variable radii.
Making the weld seam of the frame components invisible
Lasertube cutting offers unquestionable advantages to make the welding between tubular elements imperceptible to touch and sight, or even eliminate it altogether.
The Lasertube joints improve the strength of the frame and also hold the structure in the right position during welding, simplifying assembly and eliminating the need for dedicated jigs that are costly, inaccurate and time-consuming.
Laser-cut parts, particularly with a 3D laser tube cutting system, also provide smooth and defined cutting edges with the right angle for welding.
Producing more user-friendly equipment with a Lasertube system
As mentioned above, universality is one of the most important requirements for a fitness machine and this feature translates into two main characteristics of the frame.
Cutting and drilling straight or bent tubes
The tubular elements of the frame must be provided with holes, slots and cut geometries to accommodate the adjustment devices of the machine, such as hinges, inserts for additional elements, the passage of tubes and cables, etc.
Due to its high versatility, laser cutting fully meets all these needs. Furthermore, for making bent, laser-cut tubes some technologies can automatically correct the position of the cutting geometries to compensate for the deformation effects induced by the bending operation on the material to get the part right from the start.
Learn more about All-In-One technology
The video shows the bending process of square section tubes to produce the part shown in figure (A). The TLM GROUP technology allows the bending and laser cutting technologies to communicate with each other to automatically compensate for the position of the jobs carried out by the Lasertube system, taking into account the deformation effects of bending so you always get the right part right from the start.
New production requirements for home fitness equipment
Nowadays, it is becoming more and more important to make equipment that is dedicated to gyms but also machines that can find a place in homes. Home fitness equipment is a booming market and has also brought about a revolution in the industry's production standards.
Home fitness devices are more compact, often designed to fold and or turn into elegant pieces of furniture that sometimes conceal their main function.
Versatility is even more important. In the limited space of a flat, the key concept is "multifunctionality".
In other words, these devices must give the possibility to perform as many exercises as possible and this presents designers with some very complex challenges.
Typical home exercise equipment.
As if all that were not enough, these new features are combined with the fundamental attention to detail regarding home safety, where it becomes a must to eliminate protruding edges, bolts or feet, in addition to burrs or welding seams.
Therefore, great attention to manufacturing is required, as well as the ability to integrate different materials such as steel, leather, plastic and rubber. The result is a device that is safe and blends into the home environment.
In terms of production, these numerous and varied requirements imply the main aspects outlined below.
Quick production changes
To be able to rely on a production system capable of producing a large number of different models of varying sizes and designs, including specific custom machines.
In this case, the key concept is production flexibility.
Tube bending machines with automatic bending coordinate correction systems for springback compensation, such as the B_Tools function of the TLM GROUP VGP3D software, are required.
These technological solutions allow the part to be programmed and go into production without trials and errors and rejected parts.
Would you like to know more about VGP3D? Check out the 11 typical warp problems it solves for you
High aesthetic finish
To produce high-quality bent tubes, it is necessary to have advanced technology tube benders capable of eliminating creases and clamping marks and compensating for the springback of the material for imperfection-free, geometrically correct bends that are repeatable every time.
Possibility of making holes and slots in tubes
Whether it is a matter of making joints between tubes to compactly assemble the various components of the device, or holes to accommodate the fixing pins of accessory elements such as handles, seals, guards and/or hinges, laser cutting allows everything to be made in a single work cycle, quickly and accurately.
Prototype fitness step, a designer piece made of laser-cut and curved tubular elements.
Conclusions
Beauty, strength, usability, compactness and ergonomics. All these features can be met with the most advanced tube processing technologies and this is why the TLM GROUP is the choice of many of the market's top players.